YOU GUYS. There are only 30 days left until Christmas. Welcome to The Holiday Season. Capitalised, because it is so very important.
This season honestly makes me so happy, especially at the beginning. When most people are complaining that fruit mince pies are stocked in supermarkets too early (no such thing), and that the decorations shouldn't be hung in November (lies!), that's the moment I start feeling that Christmas cheer!
Do you remember this book that I was coveting last year?
Well, I actually received it from my boss last year, and I swear it has been a lifesaver! I started planning a little early, organised where I would buy all of my Christmas presents and staggered my purchases.
I try to do a lot of my shopping online. I find it so much easier (not having to physically go into shops prevents so much stress), but you do need to be organised to allow for delivery time. My favourite websites for Christmas presents include the following:
www.hardtofind.com.au

I get 90% of my presents from this site. From personalised santa sacks, to beautiful handmade necklaces and quirky homewares this website dishes out some truly unique gifts.
www.etsy.com/au/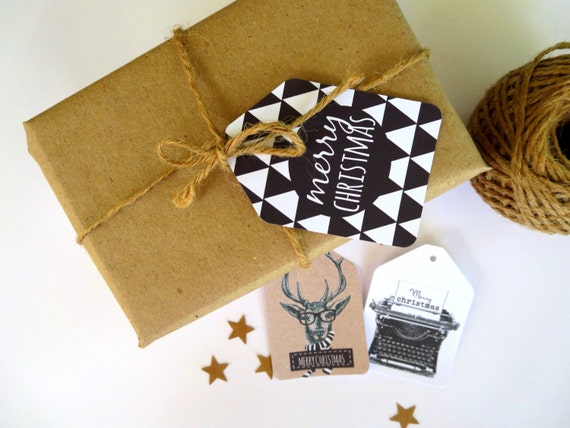 Etsy will always be king. I love this site for cheap handmade items, like the gift tags above (which I have ordered and am in love with).
www.coolmaterial.com
Google is your friend. He will lead you to places such as this which help you to find presents you didn't even know existed, but are perfect for that special someone.
www.angusandroberston.com.au

Forget Booktopia or the Book Depository, Angus and Robertson have the cheapest books and the best delivery times. With constant sales, I picked up a few secret santa cookbooks for well within the $$ limit.
www.ebay.com.au


I'm sure you've all heard of this one. Ebay is great for the material sources; wrapping paper, burlap, ribbon, bells and other decorations you need to get in bulk. Word to the wise though, get in early. Ebay shipping times are so varied and you want to make sure this stuff arrives.
Special mention to The Urban List and Instagram account @perth_pop, for showcasing local talent. When I'm not scouring the net, I do love being able to shop local and support small business. Visiting local farmer's markets and events around Perth are also a great way to pick up knick-knacks that you're almost guaranteed the receiver won't have seen before.
To me, this is one of the best parts of Christmas. I love being able to find something small that will put a smile on the face of someone you love. It's like a little reminder to them that you know them, love them and appreciate them. So please, for my sake, remember that when you do your shopping and I promise it won't be as stressful as you think.
Hanbel.
x